Welcome to the World Song Moo Kwan Association
Our mission is to unite martial artists worldwide through the promotion of uniformity, harmony, and professionalism in the martial arts; keeping intact the vision, spirit, and integrity of our founder and the founder of Modern Taekwondo, Supreme Grandmaster Byung Jick Ro.
As the original Korean Kwan, and still operating under Senior Grandmaster Hee Sang Ro's direction, we proudly bear the responsibility of providing the highest caliber martial arts training to all - regardless of age, race, religion, creed, financial status, or disability.  We strive to provide a uniform rank promotion system and to serve as the leading resource to the global martial arts community in business and training standards, carrying forth the spirit of Song Moo Kwan for generations to come.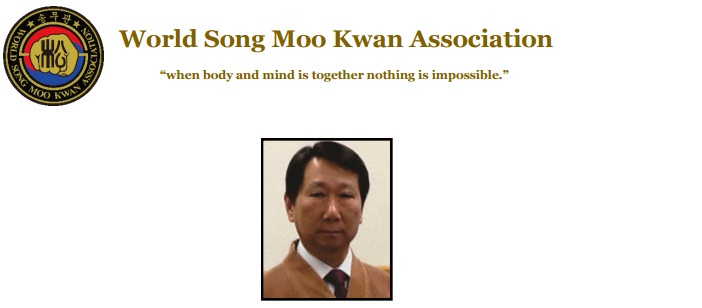 March 9th 2016                                        
Dear Song Moo Kwan family members 
On this day the 20th of March 1944 our school was founded. It has been 72 years since its foundation and we invite you to celebrate this day with your students and let it be known as ''Founder's Day''.
I feel the day should be celebrated in the way that suits your Dojang and according to your own Country traditions.
I view this that in the future this Day will be celebrated with National Championships or Continental  such as the Asian Cup, European Cup and American Cup all that could serve as a prelude to future World Song Moo Kwan Championships.
I am looking forward to see your postings and photographs of the celebrations. I am intrigued at what our group's diversity and different customs might bring.
Happy Founder's Day               
Ro ,Hee Sang
President of the World Song Moo Kwan Association
Yours in the Song Moo Kwan
WSMKA 2913 Lyndale Ave. S. Minneapolis, MN 55408 USA
ESMKA 21A Hebron Road, Hebron Estate, Kilkenny-Ireland
SMKW HQ 9-19 Samil-ro 106-gil, Jinju-si, Gyoungsangnam-do, Postcode 52845 S.Korea